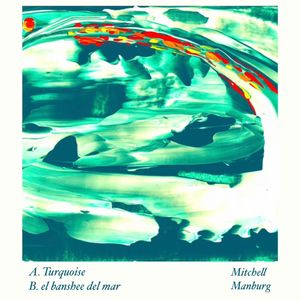 "Mitchell Manburg is a reflective artist to a point where his soundscapes are often blossoming with sonic poetry and ruminative philosophies. The guitarist and songwriter formulates complex layers of sonic threads that slow down the mind and compels you to think and understand. With his latest single, Turquoise, Mitchell Manburg dispels a sublime freshness that is associated with the color. With slow and deliberate guitar strokes and beats, the track undulates through the mind. A simple bass groove underlies the riff progressions and carries the hypnotic rhythm. 
The track has a runtime of a little over four minutes, and the artist uses it well. His use of resonance and reflecting accents fosters a psychedelic appeal. It induces a daze, one that creeps onto you and nurtures you. The stripped riffs, rough and fuzzy, slowly develop into a complex sonic organism that relay a deeper consciousness. And looking into this well of sound is sure to astound the mind."
"[Turquouise] is a slice of music that hypnotises the listeners, holding them into a parallel universe where the sun shines and life moves at a much slower rhythm."
- Gabriel Mazza, Mesmerized
"Turquoise presents a sound that unites surf music with a hint of blues with great guitar arrangements that connect to well performed drums in an energetic atmosphere."
-Elio Sant'Anna,Os Garatos de Liverpool (translated)
-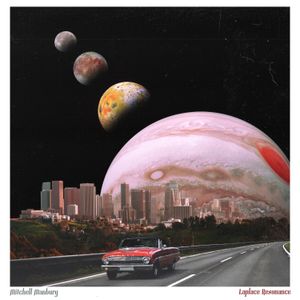 "Guitar teacher, singer-songwriter Mitchell Manburg from California paints beautiful landscapes with his stringed instruments, adds his synth soundscapes and in the meantime also dares to pose a few questions. Short EP but intense and mindfucking good." 
-Marino Serdons, Keys and Chords Belgium
"Laplace Resonance" is unusual release, judging by presented stylish options. It is vocally narrative music, where sound dimension touches elements of psychedelic, space rock, ambient, and many things in-between. It's hard to locate his works and songs in any specific music era, past, present or possible future, but he has offered his own vision and view, mostly specific, and at the same time – why should not say, original."   
-Time Machine Music
"Fyra vackra platoniska låtar som sträva rut mot yttre vintergatans svepande rörelse och formationer. En skiva värdig av sväva omkring Jupiters omkrets."
Translation: Four beautiful platonic songs that strive for the sweeping movement and formations of the outer Milky Way. A disk worthy of hovering around Jupiter's circumference.
- Micheles Kindh,Blaskans Vänner
"I have to say that this is a pleasantly weird EP by Mitchell Manburg, reminding me in parts of King Crimson's early 80s era or other progressive rock bands of the time period." 
-Rudy Carrera, Music You Need to Hear
"Four self composed tracks and 18 minutes of guitar-based music is what can be heard on the EP 'Laplace Resonance', the debut album from Oakland based songwriter and guitar player Mitchell Manburg. His musical history in a folkrock band and in an electro-soul group can still be reflected in these four pieces."
"Deze "Laplace Resonance" is een EP met daarop 4 tracks. Het futuristisch aanvoelende "I-5 and the Skies" is de opener gevolgd door het story tellende "At What Cost". Met "Headlights" komt Mitchell uit bij een nummer dat onder de noemer populair valt om daarna weer te eindigen in een vlaag van nog te ontdekken plaatsen, Laplace Resonance."  
Translation: This "Laplace Resonance" is an EP containing 4 tracks. The futuristic-feeling "I-5 and the Skies" is the opener followed by the story-telling "At What Cost". With "Headlights" Mitchell arrives at a song that falls under the heading of popularity, only to end in a flurry of yet-to-be-discovered places, Laplace Resonance.
"Yet there I was (and here I still am) staying grounded in my practice and writing.  Slowly my scales and free-writes turned into ideas, then drafts, and then songs.  The act of making this EP got me through that difficult time and I am so grateful for that."
- Interview with Shoutout LA Magazine, 4/12/2021