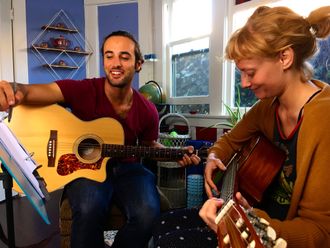 I teach guitar and songwriting to kids, teens, and adults of all levels.
Contact me here or call me at 510-410-8630 discuss your goals and set up an enrollment lesson.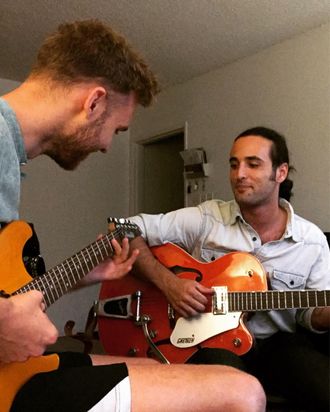 Student Benefits
Each lesson is fun and structured around my students' personal goals.

I provide a clear lesson plan complete with achievement levels and performances.

I use a song based teaching system - meaning my students learn songs they love while getting the academic benefits of music.

I have experience teaching English and Spanish in public schools and teach music following the same linguistic principles.

I'm exclusive. I don't overbook myself so as to give each student my fullest. 

I've seen the benefits of music proven over and over and I know that learning the guitar is only scratching the surface, especially during these trying times.
A Handful of Reasons to Learn Guitar
Practice Being Present
Heighten Your Creative Thinking
Exercise Self - Discipline
Gain a Source of Expression
Build Confidence
Increase Motor Skills
Become a Poised Performer and Public Speaker
Strengthen Social Skills
Improve Communication
Enhance Cognitive Thinking
Relieve Stress
Increase Memory Retention
Improve Academic and Work Performance
It's a better use of time than staring at a screen
You've got a ton of music inside of you urging to get out
Policies
For students under the age of 18 an adult must be present
Any cancellation within 24 hours of the lesson will be billed for the full amount